Local farmers markets can be a profitable place to sell your home-baked goods and build visibility for your brand, be it an established business or a new one.
According to the Farmers Market Coalition, there are 8,600 registered farmers markets in the USDA's National Farmers Market Directory so there is bound to be a market near you.
This post will explain the steps to start selling your baked goods at farmers markets, including researching and applying to the market, determining your menu, staffing, preparing, setting up, and working the booth.
Know Your State Laws
As a home baker operating a home bakery under cottage food laws, you must understand and adhere to your local health department's requirements before applying to any market. If you want to know more about starting a legal home bakery, read my post that give you the step-by-step guide.
Choosing the Right Market to Sell Your Baked Goods
Visit markets near you to see the foot traffic, vendors, product mix, and atmosphere in general. More popular farmers markets may have waiting lists. As a beginner, a smaller market may be a good option to give the experience you need.
Spend time in the market, walking around and taking notes. Look for other vendors with your type of products. You want to offer something that customers are looking for. If you sell bread and there are already four bread vendors, adding your products will not be attractive to the market.
Don't just watch the market customers; pay attention to their activity. Yup, hang out and carefully observe them. Are they carrying bags, or is the market more of a leisure outdoor activity? How many baked goods vendors are there? What can you bring to the market that is a good fit?
Apply to the Farmers Market
Once you identify a potential market, try to speak to the manager on-site. A friendly manager can let you know if baked goods are needed in the market and help you get a better sense of the customer base's demographics. The manager will tell you if there are certain requirements, whether you are eligible to apply, and if there are room and booth costs.
The booths' costs vary greatly depending on the market's location and size, with some available for $20 and others as high as $120. If you get turned down from the first market, try another. Starting with a smaller market might be a good initial step to get some experience.
Most markets will require vendors to carry a liability insurance policy of $1 million. You will need to be properly licensed for the product/s you are selling. A sales tax certificate is also required.
Most farmers markets have a website where you can easily apply. You will generally need a description of what you want to sell and a copy of your tax license, insurance information, and photos of your items. This is your time to highlight your niche if you have one. Sell yourself! Talk about what makes your items different from others. Maybe your vegan bar cookies are to die for, or perhaps you make a killer carrot cake.
TIP: Some popular farmers markets have tables available to test new vendors. If there are no spots available in your first choice market, let them know you are available if an opening comes up. Maybe you could entice them for a future holiday-themed table.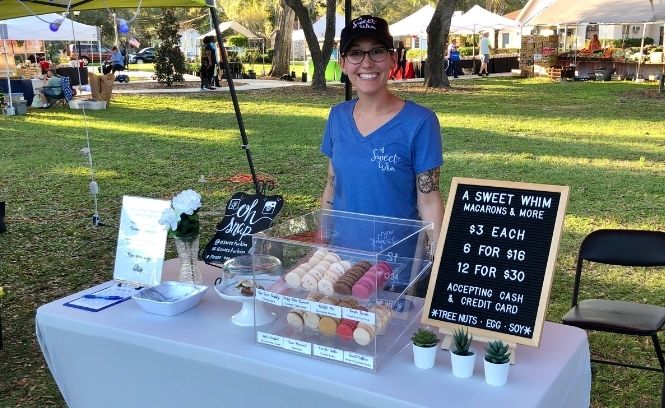 Plan Your Day at the Market
The market will tell you how much space you have and if they'll provide amenities like a table or tent. At one market I did, they gave me a table under a tent, which was very helpful. I had to bring my table cloths, displays, signage, etc.
At a different market, I had to bring a tent and table and everything else I needed. Fortunately, I borrowed a tent from a friend until I purchased my own tent down the road. Most spaces are 10 x 10, but again the market will dictate the designated area.
TIP: Weights are necessary to secure your tent during windy market days. Also, remember table weights for any napkins/menus you may have on your table. Even if it doesn't seem windy, you will be surprised how easily your tent and materials will blow away. At one market, I forgot my weights, and it was terrifying. I had to call my niece to get gallon jugs of water and rope to hold down the tent. We found a few stones on the ground for the menus.
You'll want to make your space look attractive, welcoming, and appealing, so spend some time thinking about achieving this. It could be a colorful tablecloth or baskets. We have flowers in our backyard, so I brought fresh flowers for the table a few times. You can do something similar.
I am a big fan of checklists, especially for things that I will be doing more than once. Getting into the habit of recording procedures/lists will be beneficial as you grow your business. Download a PDF version of the checklist.
What Should You Bring to the Market Checklist
Tent
Weights for the tent
Table 
Tablecloth
Apron
Chair
Banner with your business name/logo (if you have one)
Displays
Signage (product name and price)
Various products to sell
Plates for free samples
Business cards/postcards/menus
Coupons
Email sign-up sheet
Disposable gloves
Disposable wipes
Garbage bags 
Paper towels
Packaging
Cash box
Cash to make change
Card reader for credit card purchases
Bottle of water
Get photos of your setup and staffing the table
Snacks (you need your strength)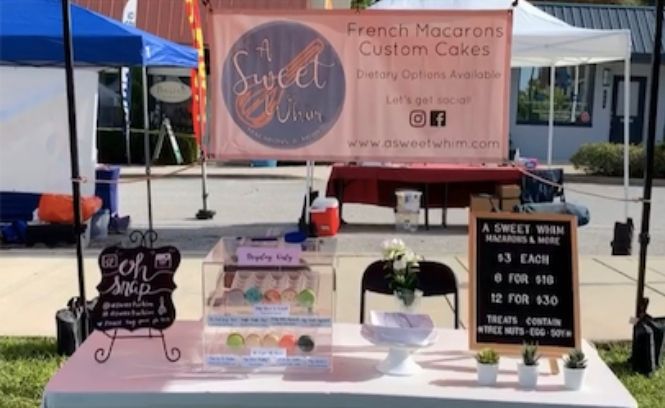 Staffing
Since you are paying for the table, ingredients, and packaging, you want to keep your expenses as low as possible. If you can do the market by yourself, that is better from a profit standpoint. Maybe a friend or family member can help you. Knowing your staff setup first will allow you to align your products to match your resources.
What to Sell
You will need to plan for the right products to sell. If it's a July day, you will want to avoid products that easily melt in the sun. Are your items packaged or available to grab and go? That means you also need to bring napkins, bags, or other packages.
Think about what's on your menu and what makes sense to bring to a market. Scones, muffins, cookies, cupcakes, breads, pies could all be good options. But don't too many different kinds of products! Think about your best sellers and start from there.
How much product should you bring? This is an age-old challenge. Bring too much, and you could end up with a lot of leftover products, or bring too little, and you sell out early.
How much is your time worth? How much do you have to sell to break even? I would figure out the math and set a goal. It's better to sell out a little early than have a ton of freshly produced baked goods leftover, especially for the first time.
TIP: Incorporate a product that is available at the market in your baked goods. For example, say there is a popular honey vendor. What if you created muffins or cookies using the honey. You share that with your customers as well as the vendor. One caveat though, you need to know how much items cost you to produce.
At the Farmers Market Ready to Sell
Arrive early. This will give you more time to set up, so if anything goes wrong, you have time to fix it before the market opens. The worst feeling is not being ready when customers arrive.
TIP: Plan on offering free samples. Allowing customers to taste your items upfront is always a good idea.
The idea of stepping out of your kitchen and talking to the public can be a very scary prospect. I am an introvert, but I decided to break through my natural shyness and be the face of my brand.
My best piece of advice, smile. I am serious. Have you ever encountered a salesperson that looks incredibly grumpy and unhappy? Don't be that person, even if you are tired from baking all night and your feet hurt from standing for hours. You need to be upbeat, cheerful, and positive!
If you have the opportunity, visit other vendors. You will be shocked to learn how supportive and understanding other vendors can be. After all, they also make handcrafted items.
Some markets offer a service where their vendors take orders for delivery and/or pre-orders for pick up at the market. As a beginner, you might not be able to take advantage of that service, but you should always be on the lookout for opportunities.
TIP: Hand out coupons with a purchase that either brings them back to the market (if you know you will be there again) or has a special offer for online orders.
Reflect and Evaluate
Review the day and think about what went right and what could be improved for next time. How was the product mix? What did people ask you? Have people heard of you? Did you leave with lots of leftovers? Was there something on your checklist you left off? How much money did you make? At the end of the day, was it worth it?
My overall experience with markets has been mixed. Some have been successful, and others not so much. But it was always an opportunity to introduce my baked goods to new customers, offer free samples, and collect names for my email list. They met me in person and understand there is a real person behind this small, handcrafted business.
The first time you do a market is the hardest, and you will learn and adapt for the next time. If you are looking for ways to build the customer base for your home bakery, a farmers market could provide steady business and be a valuable marketing strategy.
Have you gotten my Essential 5 P's for Perfect Product Pricing pdf yet? I created this freebie to take the guesswork out of determining how much to charge for baked goods. Sign up for my email list and your very first email has the pdf.
Check out my blog archive for more helpful articles. Follow me on Instagram at @whiskwarrior where I post weekly tips, resources, and personal experiences operating a home bakery and retail bakeshop.